***Aack!! I totally meant to post this to the Block of the Month community! I wish I could claim this as my ditzy move of the month, but the month still has a long way to go!!! In other news, I made all my birthday blocks. I won't be mailing them for a week or two, but they should arrive by late April or early May!****
I love seeing your finished quilts! I am reminded again of how much fun the BotM is when we all do it together. And...
I organized my craft room!!! I'm so proud! Please, forgive my show-offyness. My self-discipline is obviously low today, as you will see if you keep reading.

Look how pretty my fabric looks now that they are all organized and color grouped...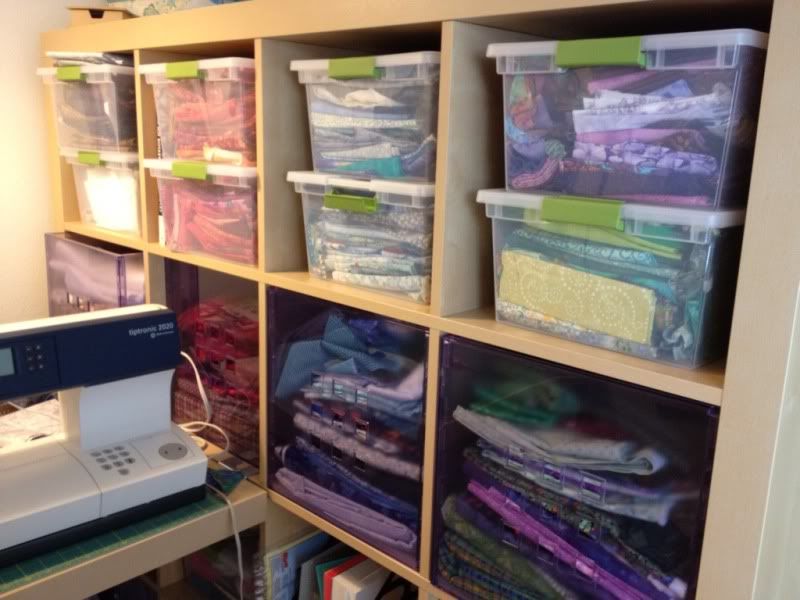 And look at my two scrap buckets...heaped with fabrics that need a home....
All this organizing has convinced me that I'd like to start a new project. Cause I obviously don't have enough UFOs. However, I gotta keep it simple, so that I will still have time to finish my other projects...and have a life too.
I'm thinking of a simple child's quilt...9 twelve-inch blocks each with an easy 9-patch design like
Churn Dash
and the
Friendship Star
.
Would anyone like to join in?
Are these blocks too simple?
Would we want to mix it up with a hard and then an easy block?
Since none of the kiddos in my family need a quilt (my mom is a skilled and prolific quilter), I was thinking that I would make this for the Linus Project. And that way I can make a girly quilt, which I don't get to do since everyone I know has boys. Though truthfully, I have enough fabric to do a boy's and a girl's quilt. Of course, kiddos in the family need quilts first, but if you don't have any of those, would any of you like to join me in a Linus Project challenge?
I would be happy to organize the blocks if we want to stay with the 9-patch designs. However, another idea would be to have each participant choose a block. Then it really would be a sampler quilt.
So please comment and tell me what you think and if you're interested. If not, I will just go back to my UFOs. Hmmm...maybe I should make an alien-themed quilt....